Influence of Bots in Politics: Considering the Threats to Human Security
(Image Source: Pixabay)
Have you ever wondered how technology can play a role in identity politics or simply can direct your political life? Yes, we do consider the importance of social media, but we are also oblivious of the dark influence it may play in shaping the minds and behaviour patterns of individuals in politics. It generates a condition among several internal cold conflicts, resulting in the interference of individual personal rights and information. This article will direct you in understanding how bots work and some prominent instances that have unfolded due to its misuse.
What are Bots?
Bots are generally automated programmes that perform specific functions on their own , but are formed or directed by human applications. In social media, bots are automated accounts that can be configured to do a certain activity. In many cases, bots are employed to simulate human behaviour by posting information, following accounts or communicating with real users. While many bots are easily identified, developments in natural language processing and artificial intelligence have made bots more realistic. Summative evaluations for distinguishing bots from people have been created and are being studied, but apart from the vast screen image of bots that lies in the world we will notice how they influenced certain political occurrences.
What Are Bots Capable of?
In a report published by Research gate in 2019, Dickerson, Kagan, and Subramanian demonstrated that when compared to humans, AI-based bots express considerable negative emotions. The bot accounts are vital in the early stages of propagating false propaganda since they deliver messages quickly and target influential people. The Brazilian website "Aos Fatos" collaborated with the International Center for Journalists to conduct user surveys and discovered that one in every four Internet users in Brazil utilises WhatsApp on a monthly basis to stay up to date on current events. And, of those who claimed WhatsApp is one of their main news sources were more than 60%, while 24% said they never do. Approximately 16% stated they "frequently believe" news spread through the app.
Some bots are just passive, and post no content but are employed to increase the number of followers on an account. Bots can also replicate internet users' behaviour (such as posting patterns) using artificial intelligence, which aids in the spread of fake news. On Twitter, for example, bots can mimic social interactions, making them appear to be genuine humans. They also stir controversy by posting messages about popular topics. How would you identify/know if you're texting a bot or not? There are several methods like the CAPTCHA test, analysing IP address, machine learning, and behaviour model but it also depends on an average person's awareness about it.
How Do Bots Motivate the Spread of Fake News?
Firstly, bots distribute fake news by first looking at the news and then obtaining the required material on the internet. Secondly, bots regularly post on social media websites, disseminating information, and utilising trending topics and hashtags as the primary techniques to reach a larger audience which in many cases aids in the dissemination of fake news. They continue spreading or tweeting fake news , utilising the same false information to reply to and to remark on genuine social media users posts. Bots' strategies succeed because average social media users trust what they see or what others share without questioning (or, in this case, thoroughly inspecting the user profile of the source of information) on Facebook, retweets on Twitter, hot hashtags, and so on. Bots take advantage of this by broadcasting large amounts of fake news while making it appear credible. However, bots appear to be unable at determining which original comments by other people to retweet. Human users, however, are emotional and intelligent, hence, they play a significant part in the dissemination of fake news. As more information concerning bots' role in the spread of fake news became available, social media companies attempted to restrict.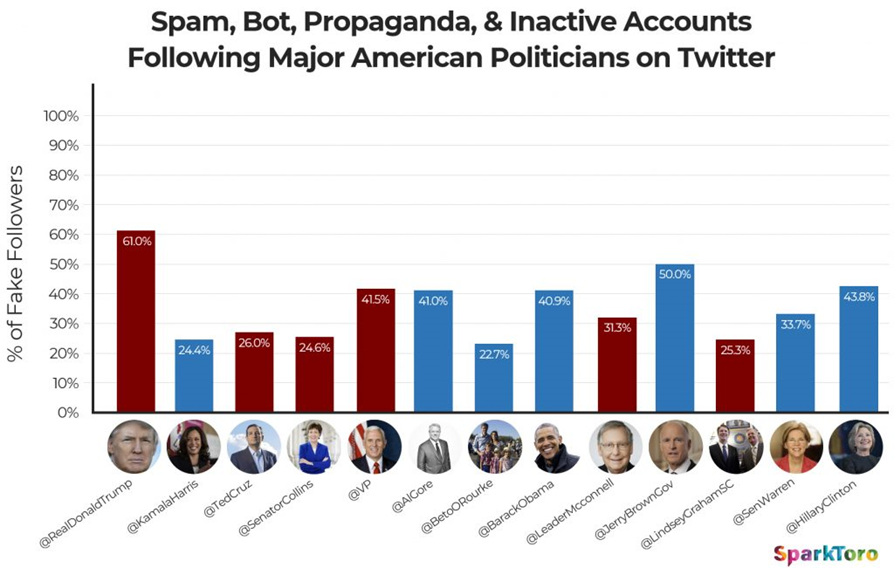 The above data chart was extracted when the same method was applied on famous American politicians.
Bots have been eventually active and prominent in Brazilian politics throughout critical political occasions in recent years. According to a 2017 study conducted by the Getulio Vargas Foundation's Department of Public Policy Analysis, more than 10% of all relevant Twitter conversations throughout the discussion contained questionable accounts. The use of social media over the last decade has changed the way Brazilian voters interact with the political system. New political movements like Agora and Acredito have leaned extensively on social media to gain traction. A week later, Época magazine alleged that paid activists and Bolsonaro supporters conspired to deliver fake news blasts, possibly using illegally obtained phone numbers. They could possibly have used foreign mobile phone chips to conceal their location and avoid WhatsApp's spamming limits. Similarly, Cambridge Analytica, a British political consulting firm (founded in 2015) employed Kosinski's method to examine people's psychological and political vulnerabilities based on their Facebook activity. They extended their understanding of people's hopes, anxieties, and vulnerabilities to impact many people's attitudes during the UK's Brexit vote in 2016 and the 2016 US presidential election. Many people have expressed worry that microtargeting had an impact on both elections, and that many of the micro-targeted communications were fake news. All of this is to demonstrate how bots in social media analytics may be used in conjunction with fake news websites to micro-target groups for political and other purposes.
Story of Facebook and Fake News

Some popular instances where its just not AI-bots, its algorithms but also it's influence could lead to and had led to misuse under the political intent causing a large negative change in certain relevant political systems.

1. Myanmar
The reaction to Myanmar's atrocities against minority Rohingya Muslims in 2020, where the military officers spread anti-Rohingya propaganda on Facebook. However, according to legal actions filed in the United States and the United Kingdom, Facebook's negligence enabled the genocide of Rohingya Muslims in Myanmar by amplifying hate speech and failing to remove inflammatory remarks. David Madden, founder of Phandeeyar, Myanmar's leading tech hub commented "Facebook has no choice but to establish election centres and strive to restrict electoral manipulation because they have created a beast and are urgently trying to figure out how to tame it."In 2018, Facebook recognized that it had not done enough to prevent the encouragement of violence and hate speech against the Rohingya, Myanmar's Muslim minority, and today it has very little presence in the country, especially in Burma. Facebook claims to have made "huge investments" in election integrity, increasing the number of employees working on "safety and security" from 10,000 in 2017 to 30,000 till date. It reported that "hundreds" of monitors had been deployed across Asia.

2. Indonesia
Smear tactics against President Joko Widodo in the 2014 presidential race in Indonesia, matched him against Subianto for the first time, accused him of being Chinese and anti-Islam. The 2017,Jakarta gubernatorial election was likewise riddled with ethnically and religiously charged fake news, which ultimately contributed to the defeat and subsequent detention of then-Jakarta governor Basuki Tjahaja Purnama. According to the Press Council, which has created an online media verification system to remove fake news, in 2017 there were over 40,000 websites purporting to be news websites,but the majority of them were not registered. The Ministry of Communications and Information in Jakarta urged Twitter and Facebook to tackle fraud on their own platforms. However, many people consider that these efforts are insufficient. Septiaji Eko Nugroho, founder and head of the Indonesian Anti Hoax Community, or Mafindo expressed "Misinformation on political matters is already entering the brains of social media users in Indonesia, it's largely straightforward to fact-check any untruth, but the post-truth environment makes delivery of correction challenging." Indonesia's young population (60% of its 262 million people are under 40) and high smartphone penetration rate make the country ripe for widespread misinformation dissemination.

3. India
In the prospect of India's 2014 national election campaign, a study by SocialBakers, a group that has a technology to discern between fake and authentic Twitter accounts, reported that almost half of Bharatiya Janata Party (BJPNarendra)'s Modi's followers appear to be suspect and Rahul Gandhi's internet presence was less noticeable in 2014 that had more focus placed on traditional campaigning techniques. Nonetheless, automation was employed to transmit campaign messages to mobile phones via Twitter, WhatsApp and SMS. In one intriguing case, Pawan Kumar Bansal, a former Union Railway Minister, filed a police complaint in Chandigarh in the last week of December 2013, after noticing a dramatic increase in his Facebook followers.
Where is the safest frame based?
However at present, no one can simply recognize the source of bots or fake news, it is either the public blaming the government or the tech companies. The motivation could be pure malice or politics. One thing is certain: we must comprehend and build legislation and techniques to detect and block these bots. The biggest social media networks have lately joined forces to work on removing these bots. However, if you are part of a real social media campaign, it may be beneficial to dedicate a portion of your media or IT staff to using bot detection technologies that report bot posts to the social media platform. Tools like Mediabugs, HackerFactor, FakerFact, Factcheck.org and the most common Adblock plus can assist an individual/company to detect the source and track such bots.
We have seen several government initiatives in countries like the USA have disarming disinformation, it has also shifted the focus of nordic countries ever since. A European Commission's high-level committee presented its official report on online misinformation in mid-March 2018, drawing on the contributions of experts from around the world who assembled for several weeks to help the European Union find out what to do about misinformation. The world map below depicts how misinformation through digital platforms especially social media is tackled by the governments of the countries.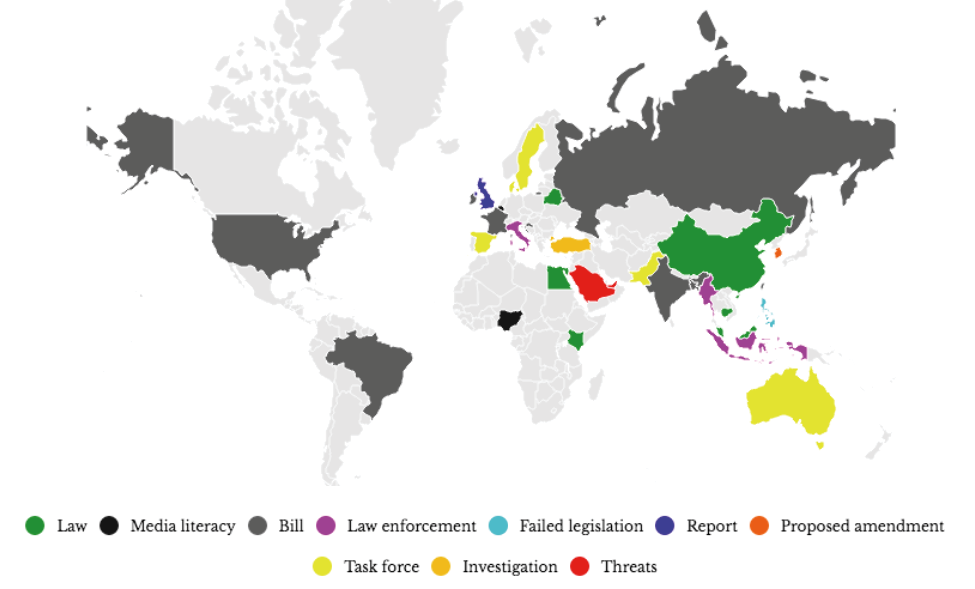 The harm that AI-based bots can do to vulnerable or thriving democracies are limitless but this also shows how measures can be taken to mitigate the damage. It also shows how Facebook, Twitter, and other public social media companies' efforts to combat fake news are sending disinformation "underground", into end-to-end encrypted channels like WhatsApp, where it is more difficult to detect. It has spurred discussion considering the goal of intervention in politics, questioning transparency, privacy concerns of individuals globally and the responsibilities of states or the international community to provide protection from bots, whether it is misused in military, political, or economic measures.
Furthermore, the deployment of bots in any political use can clarify the organisation about conflicts, peace-building or international processes. However, along with the individuals, the states or companies in a political sphere must emphasise the significance of individuals and communities in defining both domestic and global trends instead of igniting fake influences.
References