Entrevista com o Embaixador da Etiópia, V. Ex.ª Yalew Abate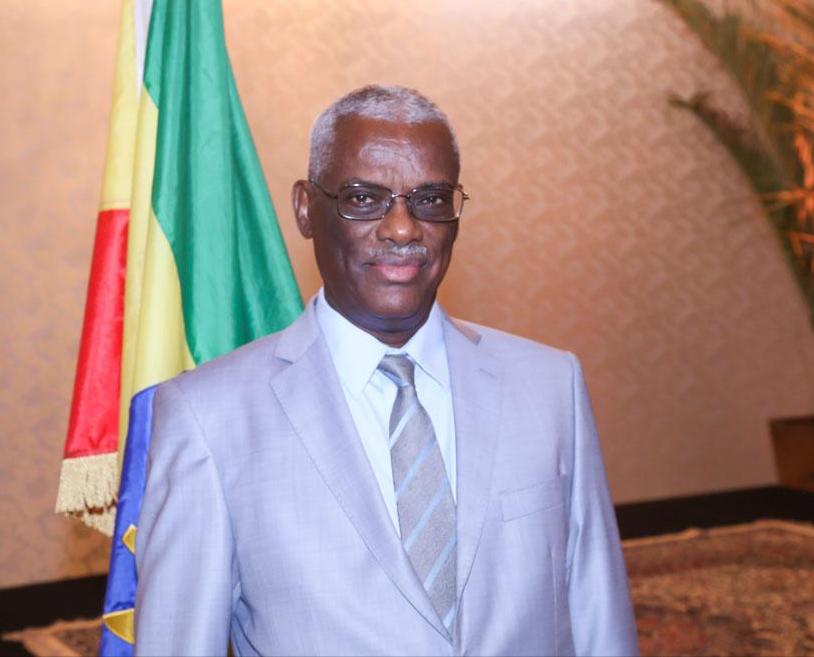 O Dois Níveis tem a honra de apresentar ao público uma entrevista exclusiva com a Sua Excelência senhor Embaixador da República Democrática Federal da Etiópia no Brasil, Yalew Abate. O Embaixador Yalew Abate assumiu seu posto em Brasília em agosto de 2018. Em seu currículo consta seu período como Presidente da Casa da Federação (2015-2018). Ele atuou também como Presidente do Parlamento do Estado Regional Nacional de Amhara (2010-2015), Chefe do Departamento de Assuntos Sociais e do Trabalho do Estado Regional Nacional de Amhara (2010), Chefe do Departamento de Desenvolvimento Urbano do Estado Regional Nacional de Amhara (2007-2010), Chefe Juventude, Esporte e Cultura do Estado Regional Nacional de Amhara (2002-2006) e Chefe da Divisão do Setor Social no Conselho Executivo Regional de Amhara (1996-2002).
Yalew Abate Reta possui mestrado em administração de empresas pelo curso de verão e educação a distância da London Open University (2007) e bacharelado em sociologia aplicada pela Addis Ababa University (1987).
Sua Excelência Embaixador Yalew é peça-chave nas relações diplomáticas entre os dois países. Nesta entrevista conversamos sobre integração regional africana; conversamos Acordo de Livre Comércio Continental Africano (AfCFTA); cooperação técnica agrícola; relações diplomáticas etíopes-brasileira e outros temas de relevância para a Etiópia no Sistema Internacional.
O Dois Níveis agradece pela honra de ter a entrevista concedida. Também somos gratos à Embaixada e à Senhora Gabryella Freitas da Embaixada Etíope, que facilitou o contato. Gostaríamos de informar que o Embaixador preferiu o idioma inglês para a concessão da entrevista.
________________
Dois Níveis' team has the honour to publish an exclusive interview with H.E Ambassador Yalew Abate, Ambassador of The Federal Democratic Republic of Ethiopia to The Federative Republic of Brazil. Ambassador Yalew Abate assumed his post in Brazil in August 2018. In his previous government positions, he served as the Speaker of the House of Federation (2015-2018). He also served as Speaker of the Amhara National Regional State Parliament (2010-2015), Bureau Head for Labor and Social Affairs of Amhara National Regional State (2010), Bureau Head for Urban Development of Amhara National Regional State (2007-2010), Head for Youth, Sport and Culture of Amhara National Regional State (2002-2006) and Head for Social Sector Division in the Amhara Regional Executive Council (1996-2002).
Yalew Abate Reta holds Master of Business Administration from London Open University in 2007 and he earned Bachelor of Arts in Applied Sociology from Addis Ababa University in 1987.
H.E Amb Yalew, is an important player between Ethiopia and Brazil diplomatic relations. In this interview, we discussed about Ethio-Brazil diplomatic relations, African regional integration, African Continental Free Trade Area (AfCFTA), technical agricultural cooperation, and other relevant matters for Ethiopia in the International System.
Both our team and readers are thankful for the honour of having this interview. We would like to thank Mrs Gabryella Freitas, from the Embassy of Ethiopia, for facilitating this interview.
We would also like to inform our readers that the Ambassador preferred English for the occasion of this interview.
Dois Níveis: Brazil and Ethiopia established diplomatic relations in 1951. After 2005, Brazil reopened its embassy in Addis Ababa. What are your reflections on these relations in the last decades?
Ambassador Amate: Ethiopia and Brazil enjoyed long standing diplomatic relations since 1951. Ethio-Brazil diplomatic ties were further cemented after the official visit of Emperor Haile Selassie to Brazil in 1960. In 1961, Brazil opened its embassy in Addis Ababa and Ethiopia opened its embassy in Rio de Janeiro in 1968. However, the two countries closed their Embassies end of the 1960's.
Reopening of the embassies in the capitals of the two countries (Addis Ababa in 2005 and Brasilia in 2011) reflects the two countries firm commitment to take the new phases of their diplomatic relationship to the highest level of cooperation. This is testified through the high-level state visits exchanged between the two countries over the last decades. H.E Celso Amorim, Minister of Foreign Affairs of Brazil visited Ethiopia in 2005. In 2011, the late Prime-Minister of FDRE of Ethiopia Meles Zenawi, visited Brazil during the Rio+20 Earth Summit and Minister Antonio de Aguiar Patriota Paid an official visit to Addis Ababa the same year. Dilma Rousseff, President of Brazil visited Addis Ababa in 2013 during her participation as a special guest in the celebration of the Golden Jubilee of the African Union. H.E Mauro Vieira, Minister of Foreign Affairs Visited Addis Ababa in 2016, he had a bilateral discussion with his Ethiopian counterpart, Tewodros Adhanom and was received by Prime Minister Hailemariam Desalegn. The visits reflect a pure testimony of closer bilateral ties brought about by the opening of the two countries embassies. Diplomatic relations have since evolved into a close partnership so as to lay a strong foundation for mutually shared benefits of the people of the two countries.
At the political level, the two countries maintain political consultation mechanisms which enable us to discuss various issues and address concerns related to our bilateral relations. In addition, Brazil and Ethiopia collaborate at multilateral and inter-regional fora. The two countries cooperate on global issues of mutual concerns such as Sustainable Development, Protection of the Environment, International Peace and Security, issues of Disarmament and non-proliferation, Human Rights and reform of the UN system.
To deepen their warm cooperation, the two sisterly countries have signed agreements in Science, Technology and Innovation, Agriculture, Air Service, Education, Military Training and Exchange, Investment Cooperation and Facilitation, waiver of Visa for Holders of Diplomatic, Official or Service Passport, Avoidance of Double Taxation on profits derived from International Air Service. Additionally, several other agreements on the pipeline in areas such as tourism and sports showcases the higher scope and diverse relationship which exists between the countries.
In the field of technology transfer and capacity building programs, Brazil generously hosted various Ethiopian technical committee delegates seeking Brazilian best practice exchanges on Biotechnology, Urban Development and Planning, Water Management and Sanitation, Biofuel Development, School Feeding Programs, Multi-sectoral Nutrition Coordination, Agricultural researches, Coffee productivity and value chain and so on. I would like to take this opportune time to express my profound appreciation for the Brazilian government tremendous support in the sphere of technology transfer. For the consistent support to the people and government of Ethiopia and for always being a reliable partner in times of need. Ethiopia is grateful for the people and the government of Brazil in this regard.
Other core areas that are strengthening the two countries bilateral relations are the trade and investment flow growing in recent years. Both countries have a keen interest to strengthen their commercial ties on the basis of equality and mutual benefits. In fact, both countries signed Agreement on Investment Cooperation and Facilitations in 2018. Efforts are underway to establish solid relations among the two countries Chamber of Commerce and Industries in order to facilitate the promotion of trade and investment. Regular Trade and Investment Forums are also being undertaken to enhance business opportunities and exchange of information on the general economic status of both countries. Hopes are high that these mechanisms contribute to further consolidate bilateral economic cooperation of Ethiopia and Brazil.
People to people relations between the two countries are flourishing. Tourism and culture are among the major activities that the Ethiopian Embassy is actively engaged in promoting to the Brazilian public, many of Ethiopian tourist attractions are becoming a favorite destination for Brazilian tourists. The Ethiopian Airlines direct flight which is connecting not only Ethiopia, but also the entire African continent with Brazil made leisure and business travels more convenient over the last years. Twining of Ethiopian universities and cities with that of Brazil, students and cultural group exchanges are some of the engagements that the embassy is determined to bring the people of the two countries to come closer.
Ethiopia deeply treasures its partnership with Brazil and looks forward to continuing to strengthen the ties of friendship that unite these two great nations and their people.
Dois Níveis: What do you think can be done to increase the bilateral diplomatic relations of Ethiopia and Brazil in the Future?
Ambassador Amate: In order to strengthen the existing partnerships to an advanced level of cooperation, the two countries should work hand in hand in all spheres of their diplomatic relations. At the political level, conducting continuous dialogue through the political consultation platform that we have already established enhances mutual understandings on our shared national interests. I believe official visits of heads of states, governments, and dignitaries in each country will also take the diplomatic ties to the highest level. Full implementation of technical cooperation agreements signed between the two countries tremendously scale up the two nations cooperation. There is no doubt that trade and investment flow between the two countries enhances mutual benefits and economic developments thereby increases partnership. Establishment of Business councils and Trade Missions between the two countries will play a key role in this regard.
Last but not least, tourism is a vital force to cultivate friendship and cross-cultural understanding, to bring the people of the two countries closer and improve their bonds and memories. It is my firm believe that, twining of Universities and Cities of the countries, students and Language exchange, Sports exchanges, Music performance, Film and Exhibitions organized by diplomatic missions of the two countries connects the two cultures.
Dois Níveis: Brazilian EMBRAPA and Ethiopian Institute of Agricultural Research has agreements on agricultural cooperation techniques. Is there political convergence to improve these kinds of agreements?
Ambassador Amate: The partnership between EMBRAPA and Ethiopian Institute of Agricultural Research (EIAR) and Ethiopian Environment and Forest Research Institute (EEFRI) are the results of the broader bilateral agreement signed between Brazil and Ethiopia on Technical Cooperation in Agriculture. It is also financed by the Brazilian Cooperation Agency (ABC). Therefore, whenever the need arises there is a framework of understanding and working relationship between the institutes to deal on matters that require improvements in the project agreements. Through bilateral consultation platforms, we have monitoring and support mechanisms to closely follow up the progress of active projects that are underway. Presently, the institutes are actively engaged in projects related to Acid Soil management- a technical cooperation project to increase the productive potential of Ethiopian soil, project on Strengthening Ethiopian technical capacity and sustainable forest management.
Dois Níveis: After being elected, Prime Minister Dr Abiy Ahmed has been praised for democratic reforms in national politics. Thousands of political prisoners in Ethiopia have been released since 2018. Ethiopia's political stability can be understood as a path for political stability for the whole Horn of Africa? What's the role of Ethio-Eritrea Peace Agreement for regional peace?
Ambassador Amate: Definitely, the political stability of Ethiopia means the stability of the entire Horn of Africa. The destabilization of Ethiopia will have an immediate spillover effect to its neighboring countries because, Ethiopia, the second-most populous country in Africa shares not only border but also people, language, culture, and heritage with some of the Horn of African countries. The domestic political stability of Ethiopia at the national level has always fostered peace and stability of the neighboring countries. It is with this context that the government of Ethiopia strives to meet the needs and expectations of the country as well as the region in terms of peace and stability. Through in-depth reform process, the council of the Ethiopian people's Revolutionary Democratic Front (EPRDF) elected Dr.Abiy to replace the outgoing party chairman and former Prime Minister Hailmeariam Desalegn in 2018. Therefore, in order to accommodate pluralism and diversity of views in the country, to speed up the democratization and development process, a series of new reforms including a peaceful transition of power, civic participation, electoral system reforms, opening of political space for opposition political parties and releasing of political prisoners are undertaken among the many other reforms to widen the political space in the country. Indeed, all of these measures indicates Ethiopia's exemplary role for other countries going through the same democratization process in the region.
To address the second question on the role of Ethio-Eritrea peace agreement for regional peace, after Eritrea got its independence from Ethiopia in 1993 through referendum, the two countries had friendly relations until the border dispute war broke out in 1998. Relation between the states remained at state of 'no peace, no war' situation for two decades after the war ended. However, the two countries herald a new phase of their diplomatic relations following the peace call by the Ethiopian Prime Minister Nobel Peace Laureate Abiy Ahmed (PhD) to the Eritrean government to conclude the state of hostility in 2018. The two countries reopened embassies in their respective capitals and resumed diplomatic ties.
Of course, the Ethio-Eritrea historic rapprochement has a significant contribution to the regional stability of the horn of Africa. The peace settlement that ended 20 years of conflict between Ethiopia and Eritrea not only normalized the diplomatic relations between the two countries but also, paved way to the process of resolving longstanding conflicts in the whole sub-region. Since the two countries resumed their diplomatic ties, Somali and Eritrea restored their diplomatic relations. The three countries signed a tripartite agreement in 2018 to foster comprehensive cooperation on political, economic, social, and cultural and security aspects. Furthermore, Eritrea and Djibouti have agreed to normalize ties after the joint High-level committee composed of the three foreign ministers of Somalia, Djibouti and Ethiopia took imitative to end the diplomatic stalemate between the two countries. These historic conflict resolution mechanisms calmed destabilizing forces in the region and brought an end to the political tensions among the states. I have no doubt that the prospect of economic cooperation brought about by this peace process will have an enormous benefit to the lives of people in the region.
Dois Níveis: The Organization of African Unity was created in 1963 in Addis Ababa, Ethiopia's capital. After years of institutional limitation in the process of continental integration, African leaders decided to create the African Union (AU) in the Sirte Declaration, 2000. African Union is also settled in Addis Ababa. What's the role of Ethiopia in African integration through AU?
Ambassador Amate: Since the inception of the OAU and later AU, African integration projects are high on the agenda of Ethiopia. As a founding member of the Organization of African Unity, Ethiopia played a crucial role for the realization of the objective of promoting the unity and solidarity of African States. Ethiopia, the only sovereign African country which has never been colonized by any foreign power in world history is a beacon of hope for many African countries to gain their political independence. At the end of 19th century, during a period known as the "scramble for Africa", while many African countries were under colonization Ethiopia had already retained its sovereignty by defeating the Italians at the battle of Adwa. In the mid-twentieth century, while the Pan-African movement quest for independence and solidarity was intensified in Africa, Ethiopia was not only source of inspiration, but also covertly and overtly supported African decolonization by providing diplomatic, military training and material support and significantly contributed to the integration movements of the time.
When the need to meet the challenges of the new Millennium and accelerate the process of integration in the continent necessitates transition, the African Union was launched in 2002 as a successor to the OAU. Against the backdrop of accelerating the political and socio-economic integration of the continent, Ethiopia still plays a fundamental role to ensure the realization of AU's objectives. The Country's Growth and Transformation Plan (GTP-II) is consistent with the African Union Agenda 2063 of an integrated, Prosperous and Peaceful Africa.
On the economic front, Ethiopia is actively working towards regional integration of the continent through Regional Economic Communities (RECs). The country is undertaking massive mega projects in the energy sector, rail, road, and air travel. Just to highlight an overview of the recent initiatives, the Ethio-Djibouti Railway, a $4bn USD project inaugurated in 2016 is the first modern electrified railway in East Africa connecting Ethiopia to the port of Djibouti. The Mombasa-Nairobi-Addis Ababa highway corridor linking Kenya and Ethiopia is another infrastructure launched in 2016 which is already boosting economic integration between the two countries. Another flagship project is the Lamu Port South Sudan – Ethiopia Transport (LAPSSET) Corridor – an infrastructure project dedicated to interconnecting the East African countries of Kenya, Ethiopia, and South Sudan. The construction of 1,522-km railway line feasibility study linking Ethiopia to Khartoum, with an extension to the port of Sudan on the Red sea, is approved this year in January. It is the top priority of the government of Ethiopia to economically integrate Africa through renewable sources of power. The country currently exports electricity to Sudan and Djibouti and expects to commence power export to Kenya soon. After the completion of the Grand Ethiopian Renaissance Dam (GERD), the largest hydroelectric plant in Africa which generates 6,450 MW of electricity at full capacity, Ethiopia sets to extend its power export to neighboring countries including South Sudan, Somalia Tanzania, Uganda and Egypt.
Ethiopia actively seeks stability in Africa through dialogue and maintains peace and collective security in the context of the AU. Ethiopia has played a crucial role to facilitate the resolution of outstanding issues between Sudan and South Sudan and mediated the peace process between the two countries. It has also extended tremendous effort for the stabilization of Somalia and contributes peacekeeping troops within African Union Mission in Somalia (AMISOM). The recent Ethio-Eritrea peace deal is another significant initiative aimed at stabilizing the region. Ethiopia is also one of the largest contributors to UN and AU peacekeeping missions in the world, notably in Abyei, Darfur, South Sudan and Sudan. The country has participated in peacekeeping missions in Congo, Côte d'Ivoir, Rwanda, Burundi, and Liberia in Africa.
Nationals of all African countries are eligible for a visa on arrival effective June 1, 2018; this decision is made in order to ease the free movement of people entering to Ethiopia. These initiatives reflect the unreserved commitment of the Ethiopian government in the various dimensions of integrating the African continent.
Dois Níveis: In the last years AU negotiated and launched protocols of integration in matter of Air Transport Market; Free Movement of People; Right of Residence; Investment; Intellectual Property, among other important regularizations. In your view, will the African Continental Free Trade Agreement impact how fast these integrations movements happen?
Ambassador Amate: Ever since African countries gained their political independence, African leaders' vision to continental integration was high on the Agendas of Organization of African Unity (OAU) formation. It is this long-standing aspiration and commitment that brought several initiatives to the table. Hence, without a doubt, the African Continental Free Trade Agreement (AfTCA) is the continent's most ambitious milestone initiative for the realization of continental integration. And I am of the opinion that AfTCA will positively contribute to the facilitation of a Single African Air Transport Market (SAATM) and the Free Movement of People, Right of Residence; Investment and Intellectual Property Rights.
AfTCA, the world's largest free-trade zone, envisages to accelerate intra-African trade and boost Africa's trading position in the global market by strengthening Africa's common voice and policy space in global trade negotiations. Of course, one cannot expect the achievement of these goals without free movement of people and infrastructure in place, that's why instruments governing the Single Air Transport Market (SAATM), Right of Residence, and Protocol on Free Movement of Persons are adopted. The Single African Passport which is launched in 2016 once fully implemented by member states is expected to increase trade and movement of people across the continent. The Single Air Transport Market (SAATM) also aims to enhance connectivity across the continent by creating a single African sky. The agreement clearly stipulates state parties to cooperate on Investments and Intellectual Property Rights.
So far, fifty-four (54) AU member countries have signed the agreement and 30 of them have ratified it, this makes AfTCA the fastest ratified document in the history of the African Union. Due to the effect of COVID-19, free trading for countries that have ratified the agreement cannot begin on the 1st of July 2020 as was originally scheduled. However, once the pandemic normalized and borders open, AfTCA implementation will benefit the African market of 1.2 billion people with a combined GDP of US$2.5 trillion. With this, I would like to remind the Brazilian investors that Africa is open for business and invite all for mutually beneficial investment in the continent.